Tulsa Electrical Company Near Me | Hot Shot Electrical
Choose Hot Shot Electrical For A Tulsa Electrical Company Near You
When it comes to electrical work, you want to make sure you are partnering with a reliable and trustworthy company. When electrical work is done poorly or by the wrong hands, the consequences can be life-threatening. This is where Hot Shot Electrical comes in. We have been serving the Tulsa area for over 30 years and have earned a reputation for being one of the best electrical companies in the region. On this page, we will explore why Hot Shot Electrical is the best Tulsa electrical company near me.
Quality Service And Reliability
Here at Hot Shot Electrical, we pride ourselves on our quality workmanship. Our team of electricians is highly trained and experienced in all aspects of electrical work, from panel upgrades to lighting installations. We also stay up-to-date on the latest industry techniques and trends to ensure we deliver the best service to our clients.
Hot Shot Electrical believes in providing reliable service that our clients can trust. We understand that electrical issues can happen at any time, which is why they provide emergency services. Our team is always on standby to ensure they can assist their clients in a timely and efficient manner. We also stand by our work with a one-year warranty to ensure your complete satisfaction!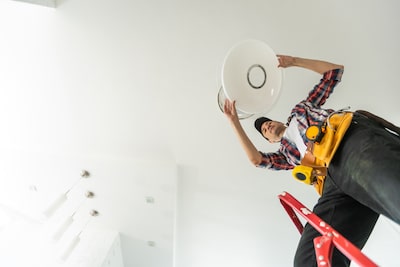 Personalized Touch And Competitive Rates
At Hot Shot Electrical, we set ourselves apart from our competitors in providing personalized service to meet our client's unique needs. We take the time to understand our clients' electrical requirements to provide a tailored solution that fits their specific needs. We are also happy to provide guidance and advice on the best solutions to ensure you get the most out of your electrical systems. In addition, at Hot Shot Electrical, you will work with the owner himself. This ensures a personal touch and consistent quality on every job.
We understand that when you're searching for a Tulsa electrical company near me, there are a lot of options. We also know that pricing can be confusing and can vary greatly. Here at Hot Shot Electrical, we believe in offering competitive electrical service rates for residential and commercial. We also have an upfront pricing model so you know exactly what to expect.
Hire A Professional Electrical Company Today
Hot Shot Electrical is committed to providing our clients with the highest level of satisfaction. We will go above and beyond to ensure the work is done to your expectations. Additionally, we offer a warranty on our electrical services to give you added peace of mind.
Don't try and handle dangerous electrical jobs yourself. Leave the wires to the professionals at Hot Shot Electrical. Hot Shot Electrical is undoubtedly one of the best Tulsa electrical companies near you. With quality workmanship, affordable pricing, reliable service, customer satisfaction, and personalized service, we offer everything you would want in an electrical company. Whether you need electrical repairs, installations, or upgrades, Hot Shot Electrical has you covered. Contact us today to learn more about our residential and commercial electrical services in Tulsa.