Tulsa Electrical Company | Hot Shot Electric
Hot Shot Electric is Tulsa's Best Electrical Company
You rely on your electrical system every day to keep your home or business running smoothly. Whether it's powering your lights, charging your devices, or operating your HVAC system, it's an essential part of your life. But what happens when something goes wrong? That's where Hot Shot Electrical comes in. Our team of skilled professionals is dedicated to providing fast, reliable electrical services that you can count on. From routine maintenance to emergency repairs, we're here to help. We have been serving as a Tulsa electrical company for over 30 years and are ready to serve you too
Our Electrical Services
At Hot Shot Electrical, we understand that every home and business is unique. That's why we offer a comprehensive range of electrical services to meet your specific needs. Our services include electrical repairs, installations, and upgrades, as well as lighting design, panel upgrades, generator installations, and more. Whether you need a minor repair or a major renovation, we have the skills and experience to get the job done right.
We offer services for both residential and commercial electrical needs. We are also proud to offer professional electric vehicle charger installation. With the need and popularity of electricity on the rise, you need a Tulsa electrical company you can trust.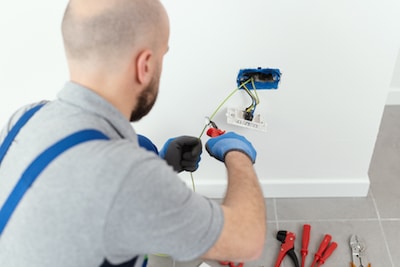 When To Hire A Professional Electrician
We understand that sometimes it may seem easier to just try and do your electrical work yourself. And while some projects seem simple enough, it is always preferred to let the professionals handle it. Electrical work is not something to take lightly as poor installation and incorrect fittings can cause serious consequences.
When it comes to electrical work, experience and expertise matter. At Hot Shot Electrical, we only hire the most qualified technicians. Our team is licensed, insured, and highly experienced in all aspects of electrical work. From residential to commercial projects, we have the knowledge, training, and equipment to handle any job safely and efficiently.
Why You Should Choose Us As Your Tulsa Electrical Company
At Hot Shot Electrical, we believe in building strong relationships with our customers. We take the time to get to know you and understand your needs, so we can provide personalized solutions that are tailored to your specific requirements. Our team is friendly, communicative, and always available to answer any questions you may have. We believe that open communication is essential to delivering the best possible service, and we strive to make every interaction with our customers a positive experience.
In the world of electrical work, reliability, safety, and quality are non-negotiable. At Hot Shot Electrical, we understand the importance of these principles, and we're committed to providing the highest quality services to our customers. Whether you need routine maintenance, emergency repairs, or a major renovation, our team of highly skilled technicians is ready to help. Contact us today to learn more about our electrical services and see the difference that Hot Shot Electrical can make for your home or business.