Something about the great outdoors makes your everyday activities so much better. The good news is that you do not need to go too far from home to do this. Your backyard is the prime spot to have an outdoor kitchen. Whether you are trying to prepare your meals and cook them there or dine with company, the fresh air and the natural light will add a very relaxing tone to your meal.
Except for those hours of the day in which there is no lighting to be found. For this, you will need some outdoor lighting to pair with your outdoor kitchen. The lighting of this sort comes in many different options, all based on the purpose you will be using the kitchen. This article will help guide you through the process of deciding what type of lighting you need.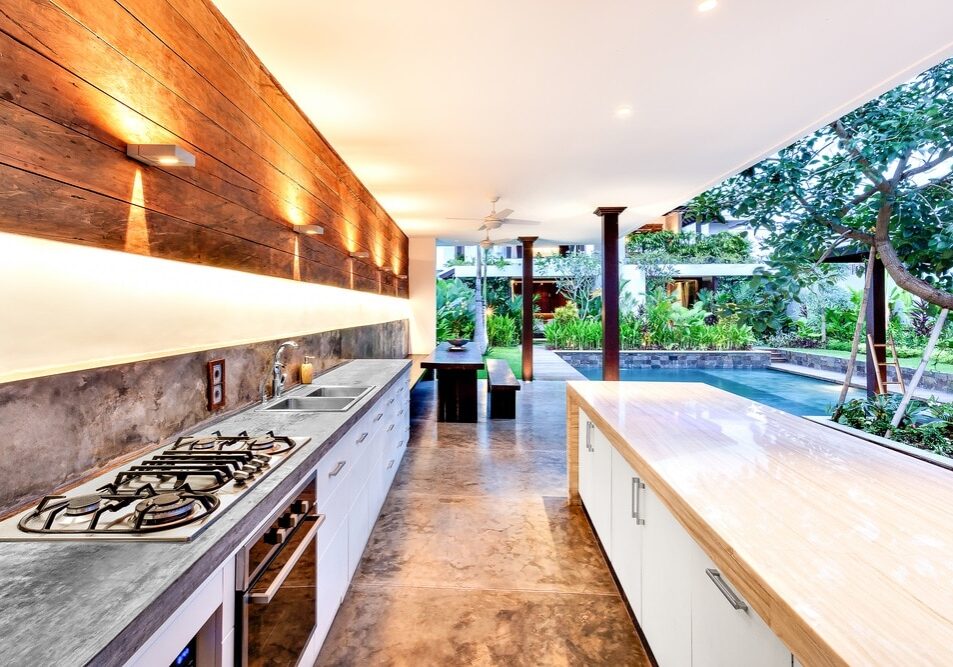 What Ways Will You Be Using Your Outdoor Kitchen?
There are multiple ways an outdoor kitchen can be used. It all depends on the setup, of course, and your intentions. One way to use your kitchen is just like that, a kitchen. This means you will be prepping and cooking your meals there. When using your kitchen like this, you will need task lighting. Task lighting will help illuminate your outdoor kitchen and prep space to allow you to accomplish your meal tasks better.
You may not have the proper prep space in your outdoor kitchen, or maybe the meal you choose does not require a grill. For this, you will probably only want to dine outside. Dining outdoors will not require as much lighting as task lighting provides. You will want to choose an option that provides you and your guests a relaxing atmosphere.
You must also consider whether your outdoor kitchen is detached from your house and the distance. You do not want your guests tripping over obstacles in your yard or falling down the steps in the dark. You will need to choose adequate path lighting to help guide you and your friends to their outdoor meal.
Types of Outdoor Kitchen Lighting
Now that you know exactly what you are using your outdoor kitchen for and the lighting it will need, it is time to find out the lighting you will have to choose from. Some of the most popular options for outdoor kitchen lighting in Oklahoma include:
Pathway Lighting

If you are hosting your outdoor soiree in the darker hours of the day, you will need lights that allow your company to make their way to your dining space safely. Pathway and stair lights will be a must to accomplish this.

Solar-Powered Lighting

If your get-together only lasts a few hours after dusk, solar-powered lights will work precisely as you need them to. This is also a more accessible, less expensive option to choose. However, if you plan on hosting well after dark, wired lighting fixtures will be the better choice.
Tiki Torches

Tiki torches are also great, cheap options to help guide your guests or provide mood lighting. Some tiki torches also use insect repellent oils to keep those little, blood-sucking devils away.

Dining Lighting

Now that your guests have made it to their destination, you will want to set a relaxing mood with your lighting. This can be accomplished in many ways. String lights are often used and will help create a festive, relaxing atmosphere. Pair these with LED candles to create the perfect evening dining experience. String lights and LED candles are also less expensive than your other options and perfect for a DIY project.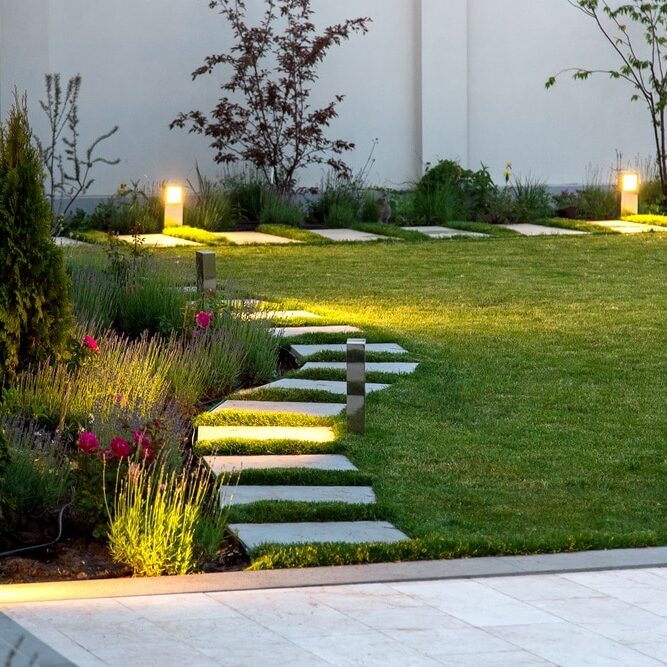 Chandeliers

Chandeliers are a more time-consuming and expensive route, but they are well worth it. They will give your outdoor party a more elegant feel while providing your guests with the necessary lighting. Some of these light fixtures will also offer you a dimmer or 3-way lighting option. This will allow you to control how much light you will be providing.

Ceiling Fans

Ceiling fans will offer more than just light. These can keep your guests cool and also help keep insects away. This is a win-win for you and your guests in the summer months. If you are interested in a form of temperature control outdoors or want a nice breeze, this will be the best bet!
Task Lighting

If you are a BBQ master or a fine-cuisine chef, you will want to prep and cook your meal in the same place. What better place than your fancy outdoor kitchen. This, though, will require more lighting than the above options will offer. Task lighting is a must for this purpose. Task lights will illuminate your workspace to allow you to cut your veggies, check the meat on the grill, or even mix you and your guests a cocktail. While task lighting will need to be wired, there are budget-friendly options to choose from.

Exhibit Lighting

I call this exhibit lighting because its primary purpose is to show off your nice outdoor kitchen. You put so much time and effort, not to mention money, into your kitchen that you will want to make sure your guests see it in all its glory. Spotlights, under-counter lights, pendant fixtures, and LED strips are great ways to accomplish this.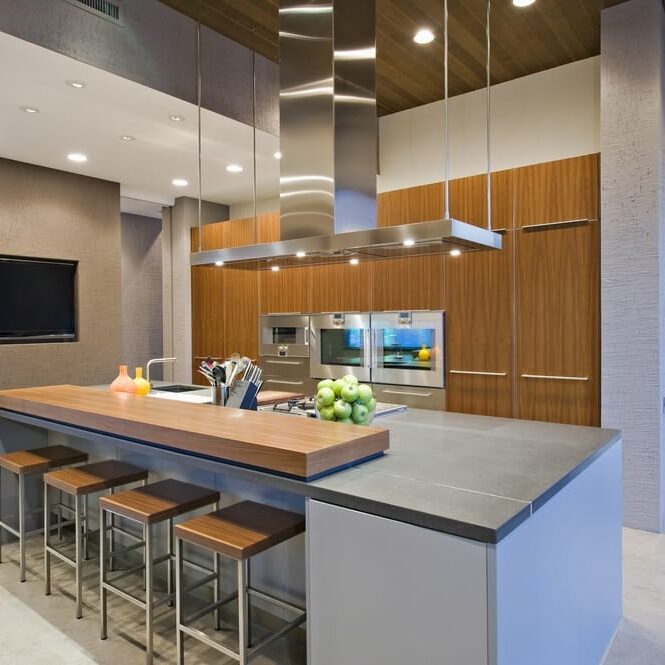 Outdoor kitchens are an investment that will provide you, your family, and your friends with memorable experiences. Do not limit your outdoor gatherings to daylight hours. Make sure that your outdoor kitchen includes the proper lighting you will need. Remember, an electrical professional should perform any wired installations for safety purposes!